Apr
23
Fri
ANSO *Members Only* BlueDragon HCA Webinar
Apr 23 @ 9:00 am – 3:00 pm
*ANSO MEMBERS ONLY EVENT*
Thanks to ANSO Member and former Navy Submarine Officer, Rob De La Espriella, we are holding a special webinar for ANSO members only on Friday, 23 April from 0900-1530 (with a 1 hr. lunch break).
This webinar is a $497 value being provided by the generosity of DLE Technical Services, LLC directly to ANSO Members.  There are limited slots available, so only the first 50 ANSO members to register will be able to attend the webinar.
Rob is a former Navy Submarine Officer and one of the leading experts in root cause analysis (RCA) in regulated industries.  He is the creator of the BlueDragon Hyper-Integrated Causal Analysis (HCA) methodology, a modern and innovative approach to solving complex, human-centric problems; problems that cannot be solved by math and science.  HCA is anchored by "critical thinking" and until HCA, there was no single methodology that could tackle that complex mix of human errors and at risk behaviors, equipment interface issues, and latent organizational and programmatic weaknesses, in a seamless and integrated manner.
Rob currently teaches BlueDragon HCA at the US National Laboratories and the nuclear weapons complex, and is a recurring guest lecturer at Princeton University's Keller Center for Entrepreneurship, teaching critical thinking tools and techniques to their Design Thinking teams each of the past five summers.
In line with ANSO's mission to develop our members, this special event will allow personnel to obtain professional competencies and life skills that are routinely undervalued in the Sea Services, but which global business leaders during the 2016 World Economic Forum deemed as extremely important in their "Future of Jobs Report:" those skills are critical thinking and complex problem solving.   These skills can set you apart from other service members and add value to our war fighting capabilities.
Don't miss it!"
Colombia, Tierra Querida

@ Virtual
Apr 23 @ 6:00 pm – 7:00 pm
Join us for a discussion on Colombia, its culture, some Myths, and how the US and Colombian militaries collaborate.
Colombia is the United States' 3rd largest trade partner in Latin America. The US Naval Forces Southern Command/ US 4th Fleet is active conducting exercises with the Colombian Navy in order to support the Joint Interagency Task Force.
Join LCDR Jennifer Velásquez-McCord (USN), and Captains Jennifer Noreña and Andres Zuniga (USMC) as they present their own version of MythBusters, Colombia edition.
The presentation will take place via zoom on Friday, 23 April at 1800 EST.
To register go to: https://lnkd.in/efPqGnd
POC is LtCol Jose L. Montalvan, USMC ANSO Service Representative, JoseLMontalvan@aol.com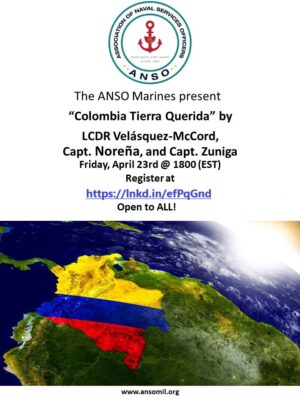 Apr
29
Thu
23rd Annual LATINA Style 50 Awards and Diversity Leaders Conference

@ Virtual
LATINA Style Inc. will be holding the 23rd Anniversary of the 2020 LATINA Style 50 Awards & Diversity Leaders Conference on April 29, 2021.  The event is currently scheduled to be held virtually.  Please check the event website for the most up-to-date info.

May
5
Wed
2021 Virtual ANSO Eastern Region Symposium

@ Virtual
May 5 @ 8:30 am – 3:30 pm
"Maintaining a Culture of Excellence

in Challenging Times"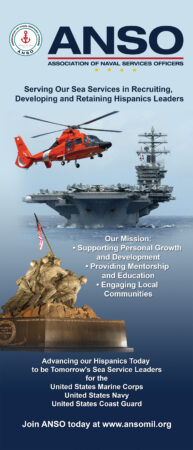 The 2021 Virtual ANSO Eastern Region Symposium (ERS) will be held on 5 May 2021 from 0830-1530. This is one of our premier events for the year and it is being coordinated by the ANSO Washington DC Chapter.  Agenda and other details are still being coordinated but the latest drafts are below.
The event is only open to members and sponsored participants. Military services are sponsoring a limited number of spots which include a one year membership. Details on how to obtain a sponsorship can be found in the service specific messages that are provided below.
If you are not a member and were not able to obtain one of the sponsored spots, you can join ANSO at the appropriate membership level and then register to attend. Please visit our Join ANSO page to become a member.
Draft List of Breakout Rooms and Panels
Service sponsorship info:
All attendees must register below to obtain the Zoom passcode for the event, which will be emailed out a few days before the event.