ANSO Eastern Region Symposium, 03-04 December 2018 in Miami, Florida
December 3, 2018 @ 7:30 am

-

December 4, 2018 @ 5:00 pm

$200.00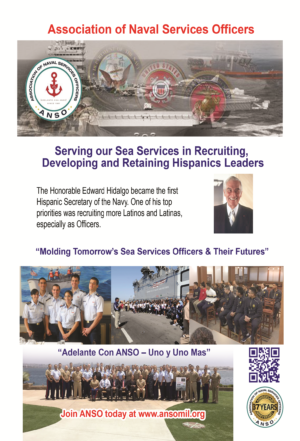 On behalf of the Association of Naval Services Officers (ANSO), it is my honor to invite you to participate in our next ANSO Eastern Region Mentoring and Career Development Symposium, will take place at the United States Coast Guard Air Station Miami, located inside the area of the Opa-Locka Executive Airport, 14750 NW 44th Court, Opa-Locka, Florida on Monday and Tuesday, 03-04 December 2018. The theme for this symposium will be "Molding Tomorrow's Sea Service Leaders and Their Futures!"
Five years ago, we changed our year-long program to a series of periodic, regionalized, one-day professional mentoring and career development symposiums and we have seen an increase in overwhelmingly positive feedback from our symposium attendees. Based on that positive feedback, specifically an increasing need in our mentoring program, I have increased the duration of our symposiums to two days (two two-day symposiums per year, one per region). As we continue to focus each of our symposiums on our primary mission – mentoring and career management in growing leaders (Officers and Enlisted) for the future of our sea services – with onsite mentoring that is closely aligned to individual key career milestone events, our symposiums have achieved great success and participation along with an increased propensity for attendees to continue to serve in uniform. Moreover, our renewed efforts fully support the continuing leadership development programs of the Navy, Marine Corps and Coast Guard.
My secondary mission is community outreach. Remembering that we truly expect our Sea Services to reflect the "face of our nation," especially in our senior leadership ranks – Officer and Enlisted, not only do we concentrate on mentoring our Hispanic Shipmates of today in order for them to become our leaders of tomorrow, but we also continue to grow and nurture the youth of today to be our leaders of tomorrow. Our ANSO Chapters have been very active in supporting their local Hispanic Communities and School Districts.
Your participation and support are key to the success of our program. The focus of our Mentoring and Career Development Symposiums are for you – our next generation of Sea Service Leaders. It is our aim to help you become the best qualified candidate for promotion and for leadership positions in our Sea Services.
Regards,
William D. Rodriguez, Rear Admiral, United States Navy, Retired
National President, Association of Naval Services Officers, Incorporated
For Attendees: Please bring your Performance Summary Records, FITREPs, OERs, Evals, etc so that you can make the most from this symposium and your one-on-one mentoring. This is especially important if you are close to coming before a promotion or selection board!
Funding and Sponsorships for the Symposium:
I have asked the Sea Services to fund our symposium as follows:
Navy: 50 Attendees at $100.00 per attendee per day
Coast Guard: 25 Attendees at $100.00 per attendee per day
Marine Corps: 25 Attendees at $100.00 per attendee per day
You will need to contact your Sea Service Diversity Office to obtain one of these sponsorships BEFORE registering online for the symposium. If authorized by your specific command, other TDY costs and per diem costs may be secured through your individual command.
Available hotels:
(Don't forget to ask for a Military or Government Discounted Rate!)
Residence Inn Miami Coconut Grove,
Address: 2835 Tigertail Ave, Coconut Grove, FL 33133
Phone: (305) 285-9303
Holiday Inn Port of Miami Downtown
Address: 340 Biscayne Blvd, Miami, FL 33132
Phone: (305) 371-4400
Some recommended hotels in Miami Lakes that are within 5 to 6 miles west of our symposium at the Coast Guard Air Station:

Shula's Hotel & Golf Club
6842 Main Street, Miami Lakes, FL, 33014
800-491-6182

https://reservations.travelclick.com/12514?groupID=2425494#/guestsandrooms

7925 Nw 154th St, Miami Lakes, FL, 33016

855-238-1593

8079 Nw 154th St,

Miami Lakes,

FL,

33016

800-491-6182

7601 Miami Lakes Drive, Miami Lakes, FL, 33014, United States

800-491-6182

15700 NW 77th Court,

Miami Lakes,

FL,

33016

800-491-6182
Agenda:
2018 ANSO ERS Theme: : Molding Tomorrow's Sea Services Leaders and Their Futures!
Location: United States Coast Guard Air Station Miami, located inside the area of the Opa-Locka Executive Airport, 14750 NW 44th Court, Opa-Locka, Florida
Uniforms:
Navy – E7 and above Service khakis, E6 and below Service Uniform
Marine Corps – Dress Blue Deltas
Coast Guard – Tropical Blue
Civilians – Business Casual Attire
Schedule of Events for Day One (Monday, 03 December 2018)
TIME
EVENT
RESPONSIBLE
0630-0700

0700-0730

Set-up and check in (sign up for one-on-one mentoring)

ANSO President & VP to meet with Flag Officers

Local Chapter

RDML Will Rodriguez, USN, Retired

0730-0800
Welcome RDML Will Rodriguez, USN, Retired
Administrative Remarks LCDR Katiuska Pabon-Beauchamp, USCG, Retired
Colors/National Anthem
Invocation
0800-0815
Introductory Speech
National President, ANSO
0815-0900
State of ANSO National President, ANSO
0900-0915
BREAK
0915-1000
Coast Guard Service Brief
CDR Rodney Rios, USCG

ADM Karl Schultz, USCG (Commandant of the Coast Guard

1000-1045
Marine Corps Service Brief
LtCol Jen Ballard, USMC

MajGen Fred Padilla, USMC (Director, Joint Capabilities Integration Directorate, Department of Combat Development & Integration, Headquarters, U.S. Marine Corps)

1045-1100
BREAK
1100-1145
Navy Service Chief Brief
LCDR Rolando Machado, Jr, USN

RADM John Nowell, USN (Director, Military Personnel Plans & Policy (N13))

1145-1245
Lunch
1245-1315
Keynote Speaker RADM Peter Brown, USCG (District 7 Commander, Miami, FL)
1315-1415
Professional Development Sessions (Service Led)
Service Reps
1415-1430
BREAK
1415-1600

1430-1545

One-on-one mentoring (concurrent with agenda) (sign up at registration desk)

Coast Guard Diversity & Inclusion Brief

Mentors

Miguel Aviles (CG D&I Division Chief)

1545-1600

1600-1700

The Importance of Service (Hon. Lincoln Diaz-Balart, LCDR Rolando Machado, Jr, USN

Chairman, Congressional Hispanic Leadership Institute)

ANSO Members-only Meeting RDML Will Rodriguez, USN, Retired &
Motivation & Wrap-up Day 1 Maj Kevin Cortes, USMC, Retired

1800-2000
Social Hour
Local Chapter
Schedule of Events for Day Two (Tuesday, 04 December 2018)
TIME
EVENT
RESPONSIBLE
0730-0800

Welcome and Review of Previous Day RDML Will Rodriguez, USN, Retired &

LCDR Katiuska Pabon-Beauchamp, USCG, Retired

0800-0830

0830-0900

The Need Beyond the Need

Leadership Development

LCDR Rolando Machado, Jr, USN

Mr. Ryan Angel
Harvard Kennedy School, Executive Education for Transitioning Service Members

0900-0915
BREAK
0915-1015
Flag Panel RDML Will Rodriguez, USN, Retired
1030-1130
E-9 Panel RDML Will Rodriguez, USN, Retired
1130-1300
Lunch RADM Jim Rendon, USCG (Superintendent, USCGA)
1300-1500
Continuation of One-on-one mentoring (Various locations)
1500
Wrap-up
1400-1700
ANSO BOD-only Strategic Planning Meeting RDML Will Rodriguez, USN, Retired