Retired Navy Commander and WWII veteran Curtis McGaha turns 100 years old today (August 3rd).
Curtis D. McGaha was born in Roosevelt County, New Mexico on August 3, 1919. He graduated from Portales High School in 1938, then attended Eastern New Mexico University and New Mexico State University before entering the Navy in 1941.
Curtis was a flight instructor until 1943 when he joined a Pacific Fleet Fighter Squadron, flying F4F Wildcats from the Escort Carrier USS White Plains. He flew over 50 combat missions in the battles of Saipan, Tinian, Palau, Leyte, and the Second Battle of the Philippine Sea. He was awarded the Distinguished Flying Cross, three Air Medals, two Presidential Unit Citations and numerous campaign and service medals.
Curtis served in the Navy for 28 years, retiring as a Commander. He then worked as an Employment Officer with the Colorado Division of Employment and retired from there after ten years.
Curtis lived in Colorado Spring from 1963 to 2012, where he is a life member of Centennial Sertoma Club and was recognized as Sertoman of the Year in 1982, 84, 90, and 92. As a Sertoma volunteer, he constructed over 300 wheelchair ramps and over 100 other handy man projects for the disabled.
He currently lives in Fort Collins, Colorado.
For more information, contact Gale McGaha Miller at galemcgahamiller@msn.com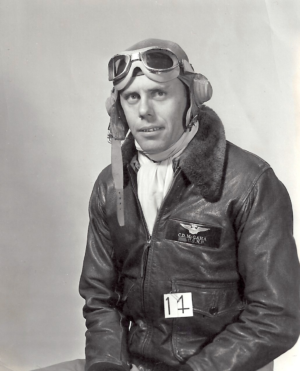 Curtis McGaha, circa 1942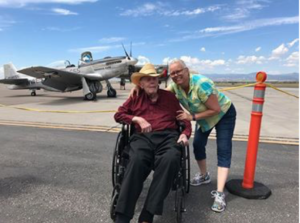 Curtis McGaha and daughter Gale McGaha Miller, 2019