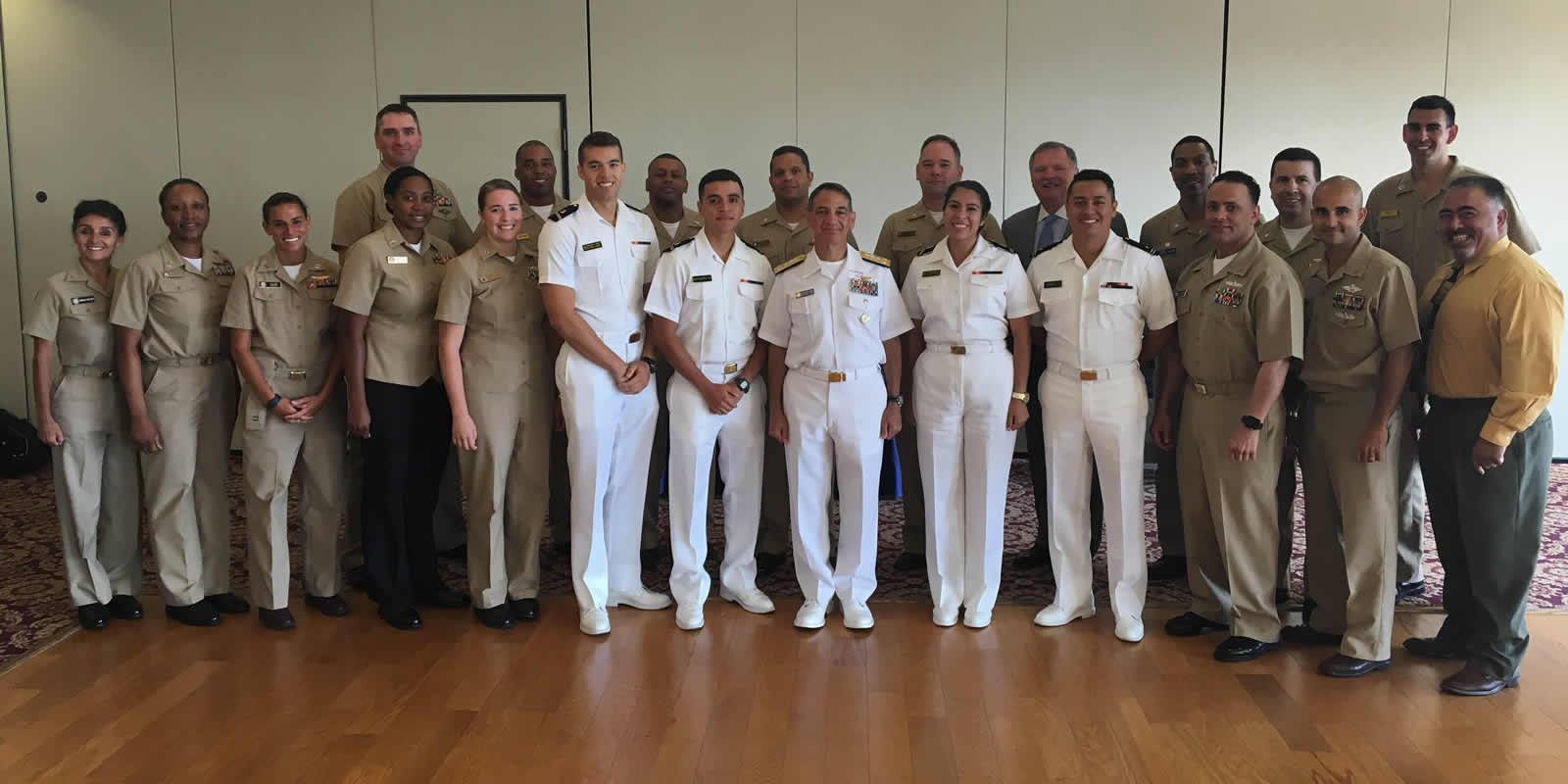 The All-Inclusive Hispanic/Latino(a) Leaders Resource Group for all Ranks of the U.S. Maritime Services!
Founded in 1981 by the first Secretary of the Navy of Hispanic descent, the Honorable Eduardo Hidalgo, the Association of Naval Services Officers has long served as a mentoring and career development focused organization.
In addition to supporting outreach within America's underserved communities, ANSO directly supports Hispanic/Latino(a) members in their decision to remain in their respective services and also help those who separate or retire find outside employment through its extensive network.
Learn More About ANSO
ANSO is a 501c3 nonprofit dedicated to the recruitment, retention and promotion of Hispanics and Latinos across all ranks of the United States Sea Services. Our Core Values: Leadership, Excellence, and Dedication. Leadership: We are committed to leading and mentoring our Officers, Enlisted, Civilians, and Youth – individually and collectively. We add value and maintain …
Make a Difference No matter your background, whether you are military or civilian, officer or enlisted, you can help spread the word about ANSO to our Hispanic youth, educators and leaders. Share the good news about the tremendous career, educational and leadership opportunities available in our sea services. You don't need to speak Spanish to …
ANSO Chapters
We execute our mission through our chapters around the world. Reach our to your Nearest chapter leadership today to find out what membership in ANSO can do for your career in the Navy, Marines, Coast Guard or Merchant Marines.
News & Announcements
We regret to inform you all that we had to cancel the ANSO event scheduled for this Thursday at the Bangor Theater. Please check back soon for more event updates!
Registration is open for our 2022 Atlantic Region Symposium, which will be held 12 to 14 April 2022 onboard Naval Station Norfolk, Virginia. A virtual option will also be available. This year's theme is "Leadership Excellence: Assuring Maritime Superiority." We have an impressive line up of speakers and all all are invited to participate. The event is open …
First Social Gathering 2022 Wepa! After a long inactive period ANSO Miami chapter is reactivating and coming back. We had our first social event on Thursday February 17th, it was great to put faces to names. Among our distinguished guest present were: LtCol Montalvan (ANSO National USMC Representative), Mr. Aranibar (ANSO National Membership Coordinator) Ms. …