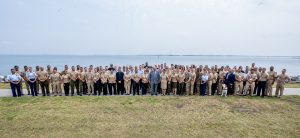 The All-Inclusive Hispanic/Latino Leader Resource Group for the U.S. Maritime Services!
Founded in 1981 by the first Secretary of the Navy of Hispanic descent, the Honorable Eduardo Hidalgo, the Association of Naval Services Officers has long served as a mentoring and career development focused organization.
In addition to supporting outreach within America's underserved communities, ANSO directly supports Hispanic/Latino(a) members in their decision to remain in their respective services and also help those who separate or retire find outside employment through its extensive network.
Learn More About ANSO
ANSO is a 501c3 nonprofit dedicated to the recruitment, retention and promotion of Hispanics and Latinos across all ranks of the United States Sea Services. Our Core Values: Leadership, Excellence, …
Make a Difference No matter your background, whether you are military or civilian, officer or enlisted, you can help spread the word about ANSO to our Hispanic youth, educators and …
ANSO Chapters
We execute our mission through our chapters around the world. Reach our to your Nearest chapter leadership today to find out what membership in ANSO can do for your career in the Navy, Marines, Coast Guard or Merchant Marines.
News & Announcements
Happy #GivingTuesday, ANSO familia! Today is the perfect opportunity to remind ourselves of the importance of coming together to make a positive impact in our communities. Let's share the joy …
Marines, Sailors, and Coast Guardsmen, On behalf of the ANSO Board of Directors and the entire membership, I want to wish the Marine Corps and every Marine around the globe a …
ANSO Familia, The 2023 Western Region Symposium is shaping up to be our best symposium yet. For more details visit our events page. We will have more sponsorship details soon. …