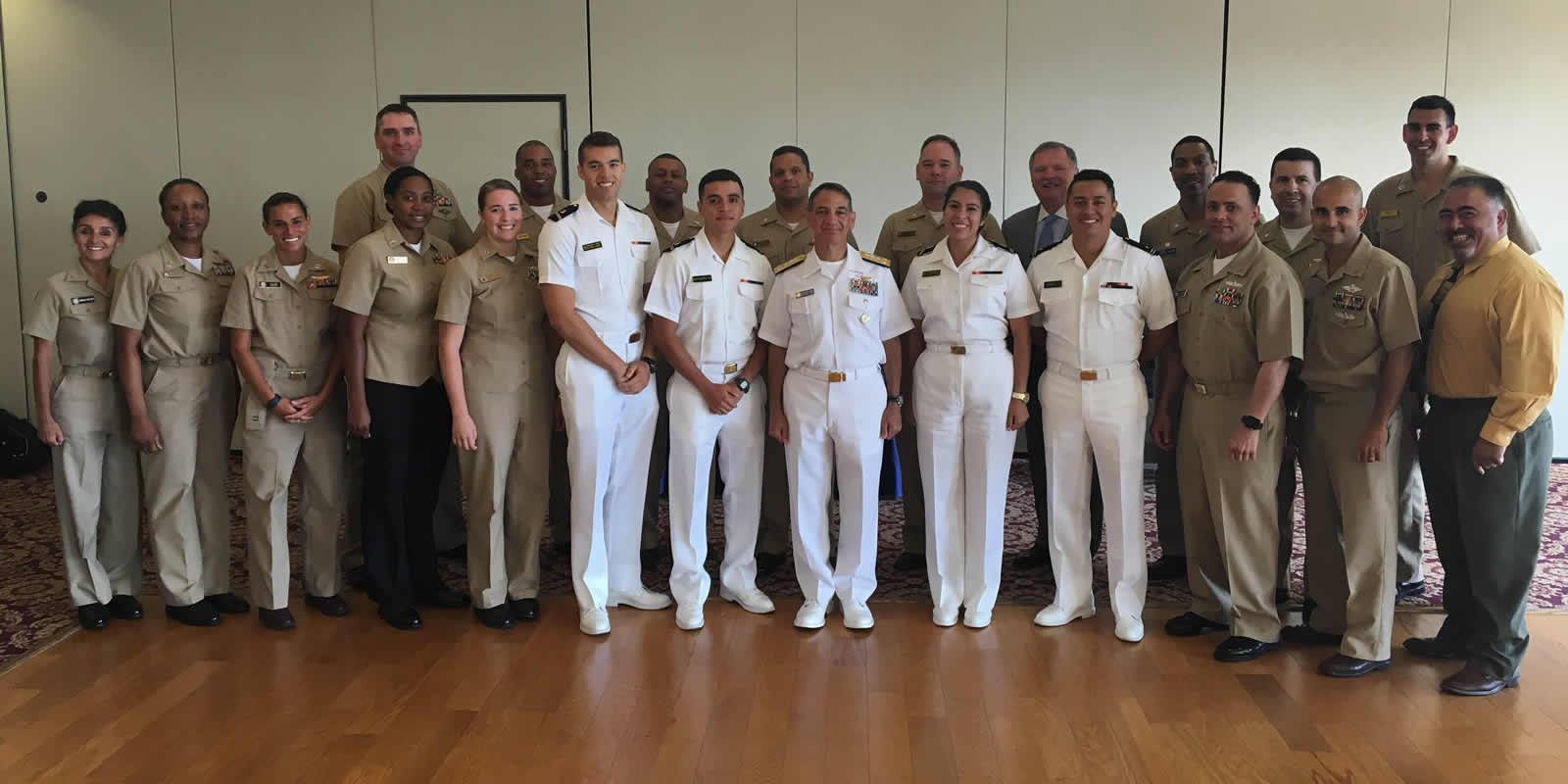 The All-Inclusive Hispanic/Latino(a) Leaders Resource Group for all ranks of the U.S. Maritime Services!
Founded in 1981 by the first Secretary of the Navy of Hispanic descent, the Honorable Eduardo Hidalgo, the Association of Naval Services Officers has long served as a mentoring and career development focused organization.
In addition to supporting outreach within America's underserved communities, ANSO directly supports Hispanic/Latino(a) members in their decision to remain in their respective services and also help those who separate or retire find outside employment through its extensive network.
Learn More About ANSO
ANSO is a 501c3 nonprofit dedicated to the recruitment, retention and promotion of Hispanics and Latinos across all ranks of the United States Sea Services. Our Core Values: Leadership, Excellence, and Dedication. Leadership: We are committed to leading and mentoring our Officers, Enlisted, Civilians, and Youth – individually and collectively. We add value and maintain …
The Members Only and Chapter sections of this website are reserved for active ANSO members only.
ANSO Chapters
We execute our mission through our chapters around the world. Reach our to your Nearest chapter leadership today to find out what membership in ANSO can do for your career in the Navy, Marines, Coast Guard or Merchant Marines.
News & Announcements
ANSO was featured in a Nightly News report that aired on November 10, 2021, which talked about Hispanic/Latino representation at the upper levels of our military services. Our President, CAPT Roy Love (USN ret), was interviewed and his comments are featured at the 2:44 mark. As CAPT Love mentions in the interview, we/ANSO are blessed …
We thank and wish all our brothers and sisters who have served, and who continue to serve, a happy Veterans Day 2021. History Veterans Day Poems
Happy 246th Birthday to the United States Marine Corps and to all our ANSO Marines! Since 10 Nov 1775, you have fought in every clime and place and consistently demonstrated to be one of the finest fighting forces in history! And as President Reagan stated "Some people spend an entire lifetime wondering if they made …