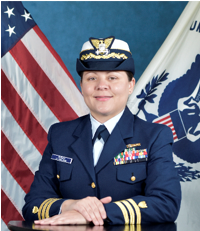 Dear ANSO Familia,
It has been an honor and a tremendous pleasure to have served this amazing professional organization!
I am proud of ANSO's achievements, particularly in our ability to provide meaningful professional development and outreach opportunities. With that in mind, I would like to highlight some of our accomplishments over the last two years:
Increased ANSO's membership by 200%.
Completion of ANSO Strategic Plan.
Improved ANSO's website and effectively increased social media communications.
As a member of the Department of Defense's Diversity and Inclusion working group, provided input to create awareness on how to better maintain a diversified workforce in the military.
Contributed to Task Force One Navy (TF1N) initiative to improve Diversity, Equality, and Inclusion in the U. S. Navy.
Participated in the Coast Guard Affinity Group Council sharing best practices and ideas on how to improve diversity and inclusion in the U. S. Coast Guard.
Contributed to the Coast Guard Underrepresented Minorities (URM) study by providing feedback about challenges in the U. S. Coast Guard.
Contributed to Services' Recruiting efforts. ANSO identified speakers and participated in a myriad of recruiting, educational, and community outreach events promoting the Sea Services as employers of choice.
Coordinated numerous professional development events such as two annual symposiums and 20+ virtual leadership and mentoring events.
Partnered with other Affinity Groups and professional organizations to mentor cadets, officers and enlisted members, and civilian personnel.
Nominated 10 members for ANSO and Latina Style awards.
Directly contributed to future Hispanic officer selections/acceptances to programs within the Sea Services.
Celebrated Hispanic Heritage Month and created awareness about the Hispanic's culture.
All these accomplishments were possible thanks to the support of our volunteers! I want to thank our members, Board of Advisors, Chapters, Lifetime supporters, partners, and sponsors for your support and guidance. I would also like to give a special shout-out of appreciation to CDR Jose Rosario, National Vice President, and members of the Board of Directors (2019-21), for their tireless work, guidance, and support. I want to also extend a special thank you to my predecessor, Rear Admiral (Ret.) William Rodriguez, for his leadership and mentoring. Our organization continues to grow in exciting ways, and I am humble for the opportunity to be a part of it. Thank you all!
As I come to the end of my term as National President, I am excited to welcome our new cadre. They are eager to continue our mission and I am certain they will successfully fulfill their predecessors' shoes! Over the next couple of weeks, CDR Rosario and I will do a complete turnover to ensure a smooth transition. Please join me in welcoming:
National President: CAPT (Ret.) Roy Love, U. S. Navy
National Vice President: LCDR Rolando Jesus Machado, Jr., U. S. Navy
National Treasurer: LCDR Edwin Ortiz, U. S. Coast Guard
USMC Enlisted Representative: Alfonso Ramos Jr., Veteran, U.S. Marine Corps
Master-At-Arms: CAPT James Kirby, U. S. Navy
U. S. Coast Guard Executive Champion: Dr. Gladys Brignoni

Again, I cannot thank you all enough for your support and dedication to me and ANSO. I hope that you will give Roy and Rolando the same support and dedication! I wish them the best in their future journey as part of our growing familia!
As a Lifetime member, I will continue to support ANSO and will be available to assist and mentor anyone that desires it. Do not hesitate to reach out to me via email or social media.
Ahora es, ANSO! Adelante con ANSO!
CDR (Ret.) Blanca Rosas, USCG
La Presidenta de ANSO, 2019-21