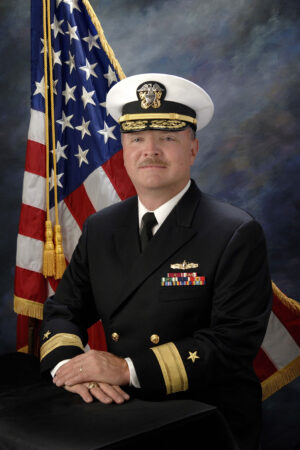 ¡Adelante con ANSO!
Saludos a Todos,
¡Feliz Navidad y Prospero Nuevo Ano! Time sure flies by quickly! The 2014 Holiday Season is now upon us, and I hope and pray that everyone has kept the holiday spirit in his or her thoughts, words and deeds throughout this past year! Please keep praying for those who cannot be with their loved ones and those who are in harm's way during this blessed season. Thank you all for what you do on a daily basis to make this world a better place to live, and thank you all for your continuing service!
I am pleased to report that we have made great strides in making our ANSO a better organization that works for all concerned! Our Chapters and our Members were fully engaged during Hispanic Heritage Month, helping our Shipmates and our communities in many ways. Further, we have completed our first year of successful Mentoring and Career Management Symposiums. Doing our "main thing" in our symposiums and in our local community outreach is making ANSO the "organization of choice". Thank you!
Planning continues for our 2015 periodic one-day regional Mentoring and Career Management Symposiums with our next one scheduled for the February / March 2015 time frame at the NAS Pensacola, FL O'Club. If you are located in the Central Region, please start planning now to attend this symposium – you have my reassurance that you will not be disappointed! Our summer symposium is being planned for the June 2015 time frame for the Western Region in Alameda, CA, and our fall symposium is being planned for the 8th of September 2015 in Norfolk, VA. If you attended one of our past one-day symposiums, I am sure you will agree with me that they are well worth attending! We continue to focus on YOU, as well as our successes as Sea Service Hispanics. Please pass the word to our Shipmates!
Please do not forget that, as the National President of ANSO, I can recommend up to five NROTC Scholarship Immediate Scholarship Recommendations per year to the Commander of the Navy Recruiting Command. Applications are due to me by the end of January!
I invite you to visit our website. It continues to be improved, and we have incorporated a Webinar capability that is being used for our monthly BOD meetings and our seminars.
Once again, I am looking for nominations to elect a number of our National ANSO BOD Officers. Please consider giving back to your Hispanic Sea Service Shipmates by stepping up to one of these positions. Your tenure on the board will be rewarding and fulfilling! Further BOD position information and voting information will be posted on our website.
All the best! Keep charging ahead – ¡Adelante con ANSO! WE ARE The Premier Hispanic Organization of the Sea Services – "Building Today's Hispanics to be Tomorrow's Sea Service Leaders!"
Warm Regards, Will.
Will Rodríguez
Rear Admiral, US Navy, Retired
El Presidente de ANSO