"Intentional Leadership for Maritime Excellence. Harnessing the Power of Mentoring and Coaching"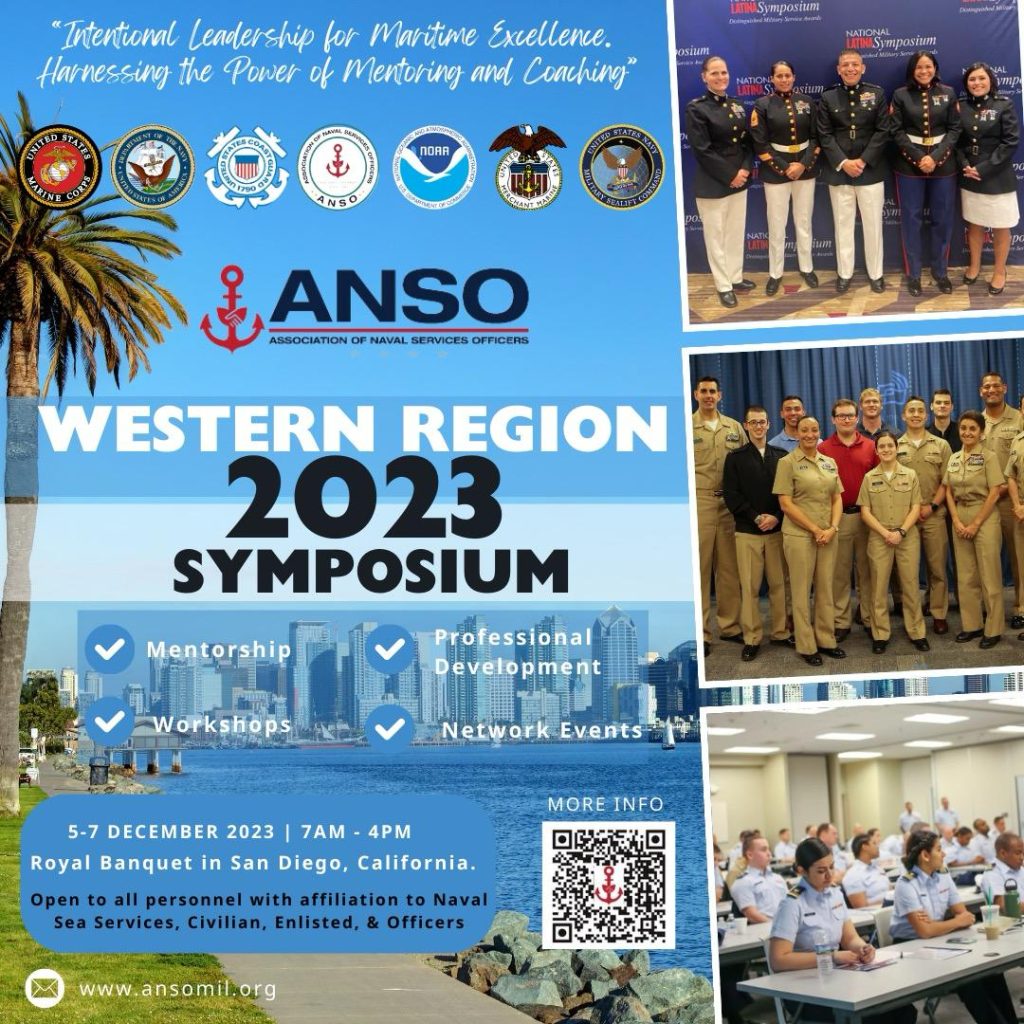 EVENT DETAILS
ANSO's annual program consists of working-level symposia co-located with local chapters. The symposia are designed to provide members with career management support and one-on-one mentoring sessions with senior officers and senior enlisted members who volunteer their time in support of their shipmates.
Our annual west coast flagship event is being coordinated by members of the San Diego Chapter and will be held 5-7 December 2023 at the Royal Banquet in San Diego, California. Cost per person attending will be $250. We are working on service sponsorships for active duty members. See service specific messages in message section below.
A virtual option will NOT be available.
Everyone and all services are welcome to participate. Registration and other event details will be coming soon.
Uniform of the day – Uniform of the day for this event is Service "B" for Marines, service equivalent for Sailors, and business casual for Civilians. Refer to service specific messages in message section below for specific details.
Important Note!

! Participants are encouraged to bring their evals, fitness reports, etc, as there will be opportunities to get one on one career advice from senior leaders.
SPONSORS
Patriot Level Sponsors
Duty Level Sponsors
REGISTRATION IS NOW CLOSED
The registration cost per person for this event is $250. Services are sponsoring a large number of the attendees. To register, first review the relevant service message to determine sponsorship eligibility, then select the appropriate registration category below and register.
Service sponsored participants, guest speakers, panelists, and event sponsor members should have received a registration code from their POCs to register. Without the appropriate registration code you will not be able to register. Please reach out the your respective POCs for a registration code and all details. Refer to the relevant service message for specific service sponsorship criteria and instructions.
For current ANSO members that do not qualify for a service sponsorship, ANSO will cover registration fees (not travel expenses) for 25 ANSO members current on their membership on a first come first serve basis. If you are not an active ANSO member or are not able to obtain funding from your service or command, you can join ANSO at the appropriate membership level and then obtain one of the 25 ANSO sponsored spots.
Anyone not covered by services or ANSO is welcome to attend by paying the event registration fee.
Note: if you are an active ANSO member and forgot your username and/or password, send an email to membership@ansomil.org.
LODGING
50 rooms at the government rate have been blocked from 4-8 Dec at the Marine Lodge Miramar, 19920 Schilt Ave, San Diego, CA. Call 858-307-4235, 858-307-4666, or 858-307-4233, mention ANSO GROUP, and reserve NLT 17 Nov 2023.
AGENDA
BIOGRAPHIES
More coming soon!!
DoD Military Services Rank Guide
SERVICE MESSAGES
US Marine Corps
US Navy
US Coast Guard
US Merchant Marines
PROMO VIDEOS
DIRECTIONS
Royal Banquet, 8990 Miramar Rd #200a, San Diego, CA 92126
5K MEMORIAL RUN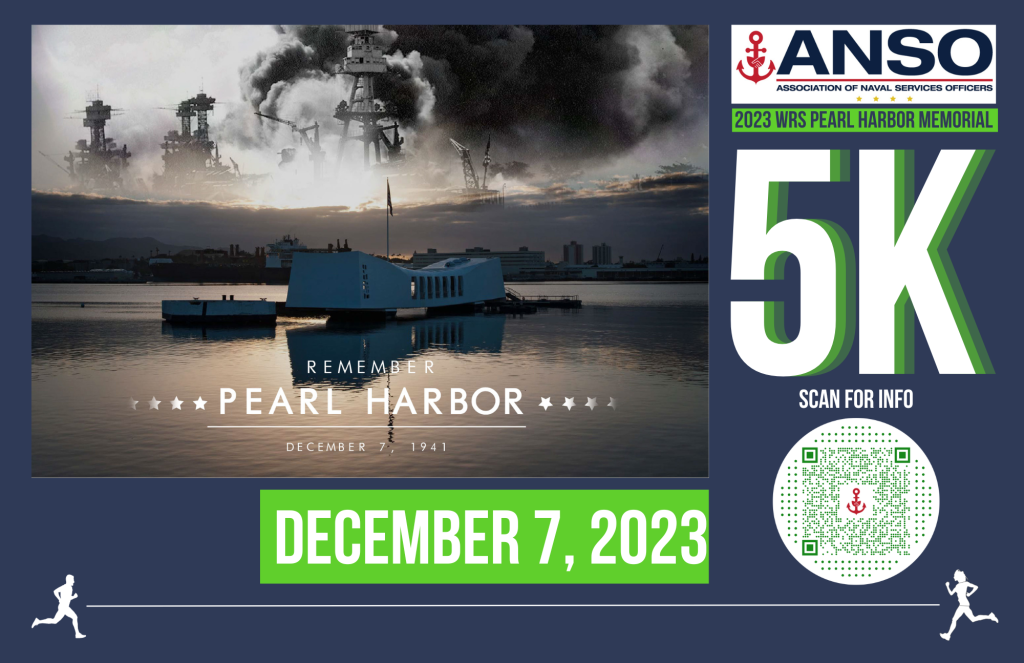 What: Pearl Harbor Memorial 5K run
Where: Perimeter of the MCAS Memorial Golf Course. We will meet in the parking lot of the golf course (see map)
When: December 7, 2023
Time: Meet at 0600hrs
Parking: Golf course parking lot and if necessary there is additional parking next to the Gonzales Mess Hall
Waves: Depending on number of participants, runners will be divided into groups and start in waves
T-Shirts: Runners will get t-shirts at the end
Refer to graphic and map for location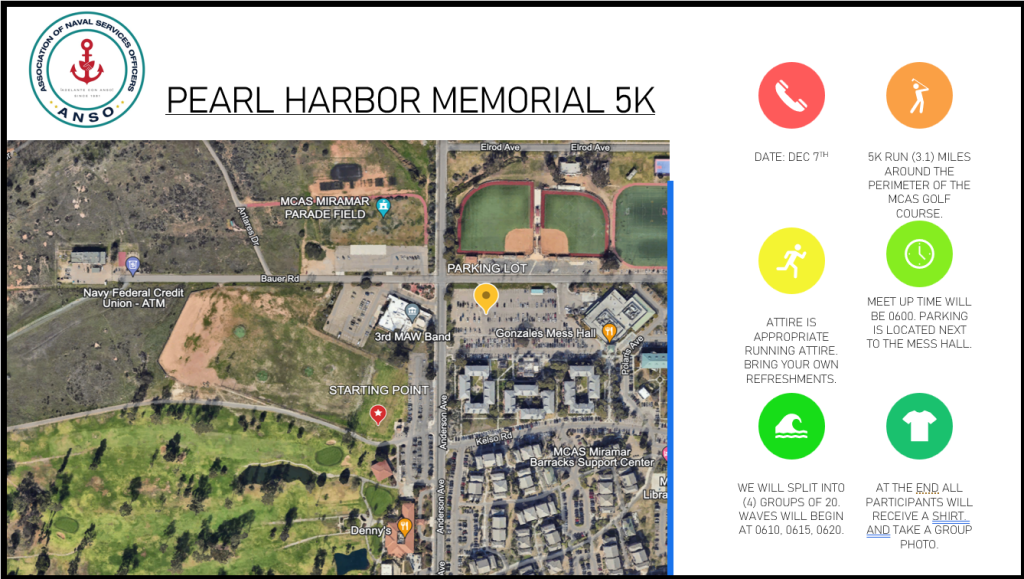 VOLUNTEERING
We need volunteers to help with planning the event and during the event, so if you are not local to San Diego but will be traveling to the event and want to help during the event, please send an email to volunteer@ansomil.org and provide your contact info. Someone will get back to you.
POST EVENT SURVEY
To access the post event survey please scan the QR code or click on the image. Thank you for participating!!